MemVerge Unveils Memory Machine Cloud for Sustainability and a 3-Step Blueprint for Slashing Carbon Footprint
Delivering fine-grained observability of CO2 emissions of every workload, and providing automation for achieving sustainable cloud computing
MILPITAS, Calif. – July 26, 2023 – MemVerge®, pioneers of cloud automation 2.0 software, today announced the general availability of Memory Machine™ Cloud Fire Island (2.3), a first step in a long-term commitment to reduce the carbon footprint of cloud computing. Along with the software, MemVerge offers a simple 3-step blueprint designed to help organizations use cloud automation to achieve their IT sustainability goals. Getting started is easy. Memory Machine Cloud Essentials is free forever and includes a calculator that tracks the carbon emissions of cloud apps so organizations can right size for a lower footprint.
"For companies focused on reaching carbon neutrality, real-time measurement of carbon emissions for each workload is an essential capability," said Jon Jiang, COO of MemVerge. "The telemetry works hand-in-hand with real-time right sizing that has the potential to drive the emissions of data center servers down 10% industry wide."
Some Cold Hard Numbers about Data Center Greenhouse Gas Generation
A medium business with 200 servers, each consuming 1,800 kWh per year, results in greenhouse gas emissions equivalent to 174,446 pounds of coal burned, or 399,232 miles driven by an average gas-powered passenger car.
A cloud data center with 50,000 servers, each consuming 1,800 kWh per year, results in greenhouse gas emissions equivalent to carbon sequestered by 643,769 tree seedlings grown for 10 years, or 46,429 acres of forest in 1 year.
Globally, data from the International Energy Agency shows that data centers use 200TWh of electricity and generate 3.5% of the global greenhouse gas emissions.
Memory Machine Cloud v2.3: Dedicated to Slashing Cloud Computing Carbon Footprint
Previous versions of Memory Machine Cloud introduced cloud automation 2.0 technology that democratizes cloud computing by making cloud computing so simple, users can configure and submit jobs without IT assistance; and by allowing workloads to migrate to larger and smaller compute instances during job runtime. This ability to continuously right size cloud resources results in new levels of lower cost and faster time to discovery.
The features and benefits of Memory Machine Cloud Fire Island (v2.3) are dedicated to making cloud computing more efficient for lower CO2 emissions, and to providing tools for managing sustainable cloud computing:
IDE Sleep and Wakeup – Until now, data scientists were faced with the choice of leaving their cloud instance running all night or shutting down and re-starting their apps built with popular integrated development environments (IDE) like RStudio and Jupyter. Memory Machine Cloud now offers the ability to put an app to sleep, then re-start where you left off.
Sleep and WaveRide from within an IDE – Memory Machine now includes widgets for popular IDEs such as RStudio that allow data scientists to put their apps to sleep or use WaveRider continuous right sizing from within RStudio.
Track and Visualize Carbon Emissions – The Memory Machine Cloud WaveWatcher service builds on its ability to track CPU, memory, network, storage IO usage by application, to calculate carbon emissions. The data can then be used by the WaveRider service to automatically right size resources and reduce CO2 footprint.
Free Forever – The WaveWatcher service with carbon emissions calculator is included with Memory Machine Cloud Essentials which is free forever.
3-Step Blueprint for Lowering the Carbon Footprint of your Apps
To help organizations kick-start an IT sustainability initiative, or achieve existing goals, MemVerge has developed a simple blueprint for reducing the carbon footprint of their apps.
On-ramp to the cloud to cut CO2 emissions in half – According to GoClimate,com, the Kg CO2 / year / server for cloud servers is approximately half of on-prem servers. If sustainability is a priority move your apps to the cloud.
Track the CO2 footprint of your cloud apps – The first step in addressing the carbon emissions of your apps is measuring how much they are generating. Get started free with tools like the Memory Machine Cloud WaveWatcher service.
Continuously right size to reduce your footprint by 10% – MemVerge estimates that real-time right sizing will reduce CO2 emissions by an average of 10%. After deploying CO2 telemetry free with Memory Machine Cloud Essentials, upgrade instantly to Memory Machine Cloud Pro for WaveRider continuous right sizing.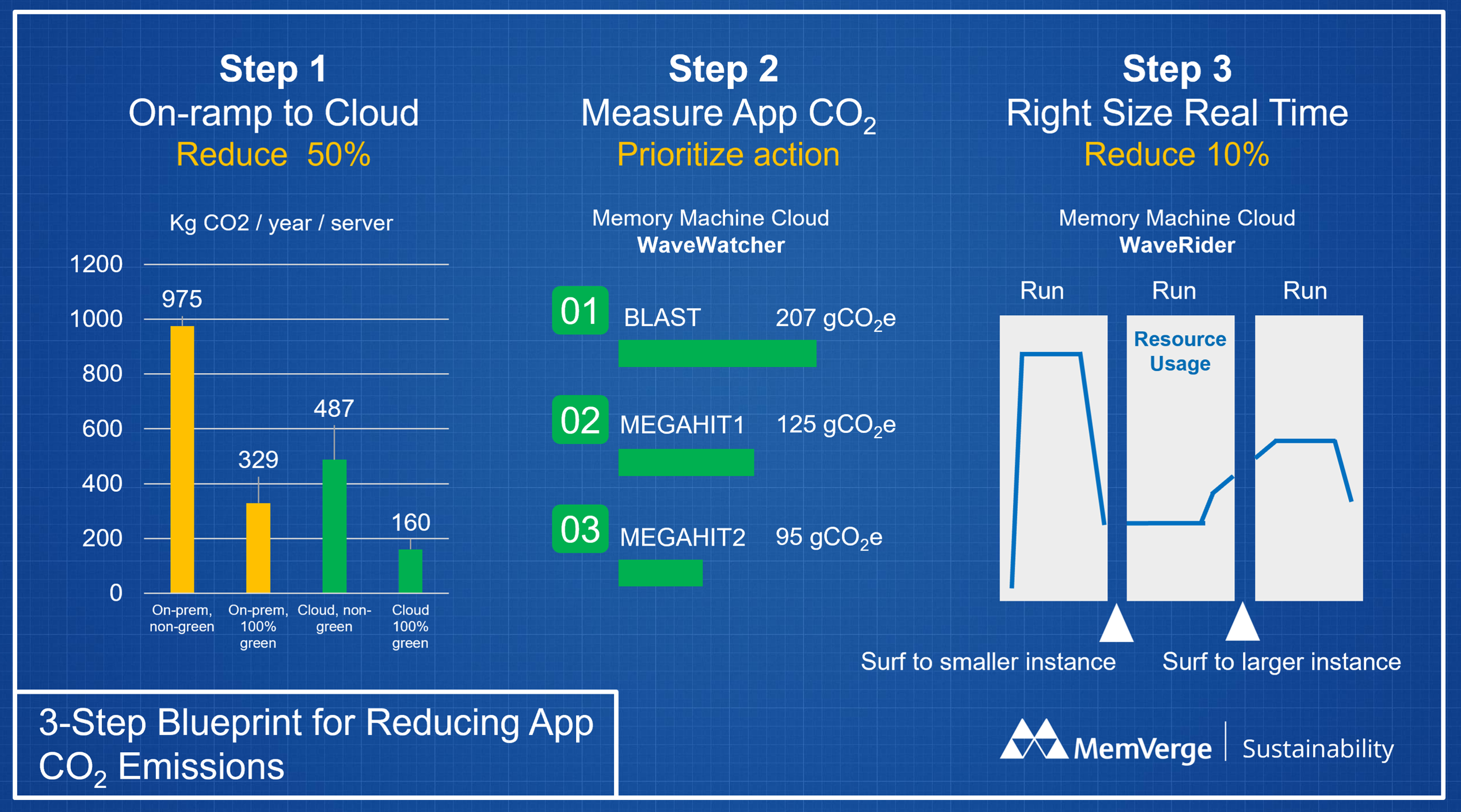 About MemVerge
MemVerge is pioneering Big Memory Computing in the cloud and on CXL for big data that needs to be processed quickly. The company's Memory Machine™ product is the industry's first commercial memory virtualization software, and introduced the world to memory tiering, pooling, and snapshot-based, in-memory data management. MemVerge is the only company to win the Best of Show People's Choice award at Bio-IT World Europe and both Editor's Choice and People's Choice awards at Bio-IT World Boston. Bioinformaticians at leading organizations such as Analytical Biosciences, Penn State University, SeekGene, and TGen are using Memory Machine software to accelerate time-to-discovery and increase application availability to unlock important new scientific breakthroughs. Learn more about MemVerge, Memory Machine, and CXL by visiting www.memverge.com.